Phonics
Intent
At Sacred Heart Catholic Primary School our children are taught early reading in Reception through phonics. We use the DfE approved systematic, synthetic phonics (SSP) teaching programme Twinkl Phonics. Twinkl Phonics is used to deliver phonics lessons in Reception and Year 1; interventions are in place for those retaking the phonics screening check in Year 2 and in Key Stage 2 where needed. Children at Sacred Heart learn phonics through a rigorous and multi-sensory approach which is engaging, fun and effective. Children join in with the adventures of Kit, Sam and the Twinkl Phonics family, while they receive the vital building blocks they need to read and write.
What is phonics?
Phonics is a way of teaching children to read quickly and skilfully. Children are taught to recognise the sounds that each individual letter makes (phoneme) and its written correspondent (grapheme). They are taught how to identify the sounds that different combinations of letters make (i.e. digraphs/trigraphs) and how to blend these sounds together from left to right to make a word. Using this knowledge, children are able to 'de-code' new words that they see or hear which is the first important step in learning to read.
Why phonics?
"Research shows that when phonics is taught in a structured way – starting with the easiest sounds and progressing through to the most complex – it is the most effective way of teaching young children to read. It is particularly helpful for children aged 5 to 7. Almost all children who receive good teaching of phonics will learn the skills they need to tackle new words. They can then go on to read any kind of text fluently and confidently, and to read for enjoyment. Children who have been taught phonics also tend to read more accurately than those taught using other methods, such as 'look and say'. This includes children who find learning to read difficult, for example those who have dyslexia." Learning to Read Through Phonics, Department for Education, 2013.
Our Aims
At Sacred Heart our aims are:
To establish a cohesive whole-school approach with progression and continuity in the teaching and learning of phonics throughout the school with a focus on quality first teaching.
To ensure that systematic synthetic phonics (following the Twinkl Phonics programme) is the first approach pupils use to help with their reading and spelling.
To ensure children learn to read and write all 44 graphemes in the English language.
To ensure children have specific strategies to identify and decode common exception words (tricky words).
To have robust assessment procedures to check progress and identify pupils in need of intervention.
For pupils to apply their phonic knowledge in their reading and writing across the whole curriculum.
For pupils to develop a love of reading and enjoy reading for pleasure confidently across a range of genres.
Implementation
At Sacred Heart we use Twinkl Phonics as our systematic, synthetic phonics programme (SSP). It is high quality and robust in its purpose. With a clear, structured progression through the programme, it allows all of our pupils to meet or exceed the expected standard.
The Twinkl Phonics approach combines rigorous progression with engaging learning materials. We believe that children learn best when they are enjoying their learning and that this comes from a mix of bright, fun and engaging lesson resources within a clear and systematic approach that builds on children's skills daily.
How is phonics taught at Sacred Heart?
The structure of every Twinkl Phonics lesson follows this familiar five-part structure to ensure that the four cornerstones of phonics are covered. These four cornerstones of phonics are:
Rapid recall of GPCs (grapheme phoneme correspondents)
Rapid recall of tricky/common exception words
Efficient segmenting skills
Efficient blending skills
During our phonics lessons, children will repeat the elements from the four cornerstones of phonics to ensure that they have rapid and automatic recall of GPCs and tricky/common exception words; each day, they will experience blending and segmenting activities to allow regular practice of these core skills.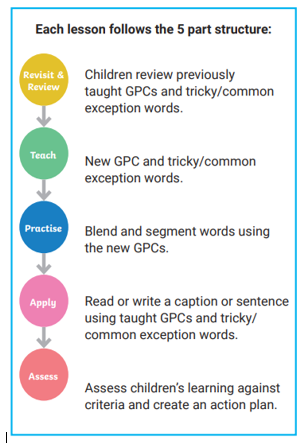 Stories are used to provide a stimulus and context for phonics teaching in our Twinkl Phonics lessons in Reception and Year 1. The story content also integrates games to practise the skills taught. As part of our wider SSP provision, there are also follow-up activities that the children can complete independently, in pairs or in groups that relate to the day's learning. In addition, we use actions to help the children remember phonemes; this kinaesthetic, visual and auditory approach helps the children to retain the phonemes and supports children with SEND. We use both individual and guided reading to teach reading alongside phonics. We also use a mix of eBooks and physical books.
When is phonics taught?
Phonics is taught daily to all Reception and Year 1 children. Phonics will also form part of the continuous provision for children to access following their discrete phonics lesson. In Year 2, the children graduate from the Twinkl Phonics scheme to the Twinkl Planit spelling scheme.
Impact
At Sacred Heart we continue to monitor the impact of phonics teaching through observing:
The children's attainment and progress, how it continues to improve in line or above national average with the disadvantaged children attaining in line with their peers
The children's ability to apply their phonics knowledge to their early reading and writing
How confident the children are when reading and their level of enjoyment and positive attitude towards reading
Assessment
On entering Sacred Heart school, all Reception children undertake a Baseline Assessment to determine their current phonics skills. Each term children in Reception and Year 1 will undertake a formal phonics assessment using Phonics Tracker, this is in addition to ongoing teacher assessments. Weekly 1:1 reading with a teacher/teaching assistant should also inform assessments on children's GPC recognition, segmenting and blending skills.
Year 1 Phonics Screening Check
In the summer term, all children in year 1 will undertake the National Phonics Screening Check. This is an assessment carried out in school during which the children will be assessed on their ability to segment and blend a range of 40 real and 'alien' words. Alien words are a selection of phonetically decodable nonsense words. The words in this assessment gauge the children's understanding of the phonemes learnt and give the school the knowledge of where the gaps are. If the children are not secure in recognising, segmenting and blending these words and therefore do not pass the assessment, they will be offered further support as they enter year 2 and will be able to repeat the assessment in the summer term of year 2. This assessment also allows us to put in specific and personal support for those children who require additional assistance. If a child does not meet the expected standard in year 2, then phonics teaching and learning will be continued into key stage 2.